A German Christmas Intercourse
So I googled at work today and I found out quite a lot about our christmas traditions being totally ours (I kinda always believed them to be international, or most definitely NOT originated in Germany)
So here's a guide to german christmas: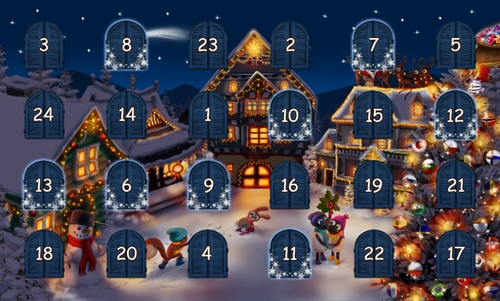 You probably know and also have these. It's a calender for the countdown to christmas. Mostly they are made of paper and have little windows, to open each day, starting from December 1. The "normal" ones have little chocolate items in them. But we have a wide range of those, including jewlery, alcohol (for adults obviously), Lego or Playmobil, or other small toys.
But a lot of parents make them themselves for their children, so they use little sacks of clothes with numbers on them or something.
Christmas Food
Vanillekipferl are Austrian, German, Czech and Hungarian small, crescent shaped biscuits. They are usually made with ground almonds or hazelnuts. They are flavored with vanilla or artificial flavouring and have a heavy dusting of powdered and superfine sugar.
I love those! They are very delicious!
A Stollen is a fruit cake containing dried fruit and often marzipan and covered with sugar, powdered sugar or icing sugar. The cake is usually made with chopped candied fruit and/or dried fruit, nuts and spices. Stollen is a traditional German cake, usually eaten during the Christmas season, when called Weihnachtsstollen or Christstollen.
For a long time I didn't like stollen because I hate raisins, but recently they also have them without raisins. I still need to buy one :)
Spritzgebäck is a common pastry in Germany and served often during Christmas season, when parents commonly spend afternoons baking with their children for one or two weeks. Traditionally, parents bake Spritzgebäck using their own special recipes, which they pass down to their children.
My grandmother used to make these along with normal christmas cookies! They are really tasty and buttery. I love them most, when they are half-covered with chocolate :)
Lebkuchen (or Pfefferkuchen) is a traditional German baked Christmas treat, somewhat resembling gingerbread.
Actually I always though gingerbread WAS Lebkuchen. Aparently though, it is not exactly the same.
You usually find Lebkuchen everywhere in Germany. Usually they have these heart-shaped Lebkuchen at carnivals and festivals.
But of course everyone knows the tale of "Hansel and Gretel" with the witch and the house of Pfefferkuchen.
So yeah we still build those houses for christmas, you can actually buy kits to make them themselves here in Germany around christmas like everywhere.
Eierpunsch (literally "egg punch") is the German name given to a warm, sweetened alcoholic, egg-based drink similar to eggnog [1]. It is commonly a winter drink and can be found served in the popular Christmas markets of Germany and Austria. Eierpunsch is made with egg yolks, sugar, white wine and vanilla. Sometimes cream or custard can be added.
Actually I haven't drunken it very often till now, but I hear it is tasty :)
Feuerzangenbowle is a traditional German alcoholic drink for which a rum-soaked sugarloaf is set on fire and drips into mulled wine. It is often part of a Christmas or New Year's Eve tradition. The name translates literally to fire-tongs punch.
The popularity of the drink has been boosted by the 1944 film comedy Die Feuerzangenbowle. It is a traditional drink of some German fraternities who also call it Krambambuli as the red colour is reminiscent of an eponymous cherry liqueur from Danzig.
I tasted this at a christmas market last year and it's really delicious!
Usually you find huts which make this at christmas markets around Germany and Austria probably.
A Dominostein (plural Dominosteine) is a sweet primarily sold during Christmas season in Germany and Austria.
The base consists of Lebkuchen. Next is a layer of sour cherry or apricot jelly and a layer of either marzipan or persipan. The Dominostein is covered with a thin icing of dark chocolate.
I love those!
Traditions
Instead of openening presents on Christmas Day we open presents on the evening of Christmas Eve (called "Heilig Abend" = "Holy evening")
Usually the familys first go to church (if they are religious) then eat and then unwrap the presents, though the tradition may vary from family to family.
Instead of the Weihnachtsmann (Santa) my family used to say that the Christkind (Christ child) brings the presents (which for me, always looked like a child-angel in my imagination). It's fairly usual to have these two stories along each other in Germany.
Christmas Day and Boxing Day
The two following days of Heilig Abend are mostly spend with different parts of the family. People visit each other and have lunch together or something.
In later days I used to spend this time, laying on the couch, playing with whatever presents I got and eating as much as possible, while watching TV.
(Christmas is the one lazy time, where I do absolutely nothing without a tiny bit of regret)
Songs
There are a number of songs in Germany, which children learn as soon as they can talk.
The most popular I think are "Stille Nacht, heilige Nacht" = "Silent Night", which is now also popular around the world.
"O du fröhliche", which is basically a song about how people rejoice about it's being christmas soon.
"Ihr Kinderlein, kommet" ("Oh, come, little children"), is a song about Jesus birth in Bethlehem.
"Leise rieselt der Schnee" = "Quietly falls the snow" , "Kling Glöckschen, klingelingeling" = "Ring bell, ring".
And one of my favourite is: "In der Weihnachtsbäckerei" = "In the christmas bakery". It's a funny song about how children bake christmas cookies and fail at it.
So yeahm, thats a really short guide to German Christmas. Of course I am sure there are a lot of things missing, of which I can't think now.
If you have questions, just hit my ask!